Skip to content
Ascend Power Cage
Buy now
Sale price
$499.99
Regular price
Unit price
per
This product is IN STOCK and ships within 2 business days
Fast + Affordable Shipping

We partner with exclusive carriers to ship your order right to your door, wherever you are in Canada in just a few days.


*Shipping fees may apply to Yukon, Nunavut, and N.W.T, as well as other countries.

1 Year Warranty

We stand by the quality and durablity of our equipment with a 1-year limited warranty. Something breaks? We'll repair it at no cost to you. Need a replacement? We'll cover that, too.

Purchase with a peace of mind, knowing that our team of canadians is here to help, 7 days a week out of our office in Montreal, Canada.

Easy Returns + Exchanges

Received your Ascend equipment, and not 100% satisfied? We're happy to accept your return/exchange within 30 days of delivery. See terms and conditions for more information.

Come see it in our showroom

Our showroom is temporarily closed. We are currently renovating our new warehouse, which will soon be open to the public. In the meantime, don't hesitate to contact our customer service department with any questions you may have.

Questions? Call one of our experts to chat about your purchase and find the best fit for your workouts!
Contact us
A full gym at home
Powerlifting Made Easy
Our cage is the perfect companion to do compound lifts such as squats, bench press and deadlifts from the comfort of your home.
Heavy Duty Grade
The reinforced steel beams are made out of 11 gauge steel and the cage can support up to 800 lbs.
Designed for your home
Our base cage is perfect to use in any home settings. We designed it with a height of 6 foot 8 so it fits under most ceilings.
Comes with
The base cage comes with the metal beams, the hardware, a pair of J-Hooks and the pair of safety arms.
High-end finish
The cage is finished with a beautiful black powder coat, and the vertical beams have included hole numbers to facilitate your lifts.
Multifunctional
Our cage can be upgraded with 2 main attachments, as well as a plethora of smaller attachments. Its ready to evolve with you! Smaller compatible attachments include: Landmine, Barbell Holder, Plate Holder, Dip Horns, J-Hooks, Premium Handle Kit.
Pulley Attachment (Optional)
The optional back pulley attachment is perfect for you to start doing cable rows, lat pulldowns, triceps pulldowns and much more. It comes with foldable footrests and a basic wide grip bar as well as a shorter bar to start using it right away.
Cross-Over Attachment (Optional)
The cross-over attachment is perfect if you plan on doing more isolated exercises such as cable cross-overs or if you plan on setting your cage up in a room where you train with multiple people. The 2 sides mean multiple people can use it at once. Comes with the 2 required strap handles.
Cage Measurements (inches)
Cage: W: 60, D: 43.5, H: 82
Cage + Pulley: W: 60, D: 53.5, H: 82
Cage + Cross-Over: W: 119, D: 60, H: 82
Cage + Both: W: 119, D: 73,5, H: 82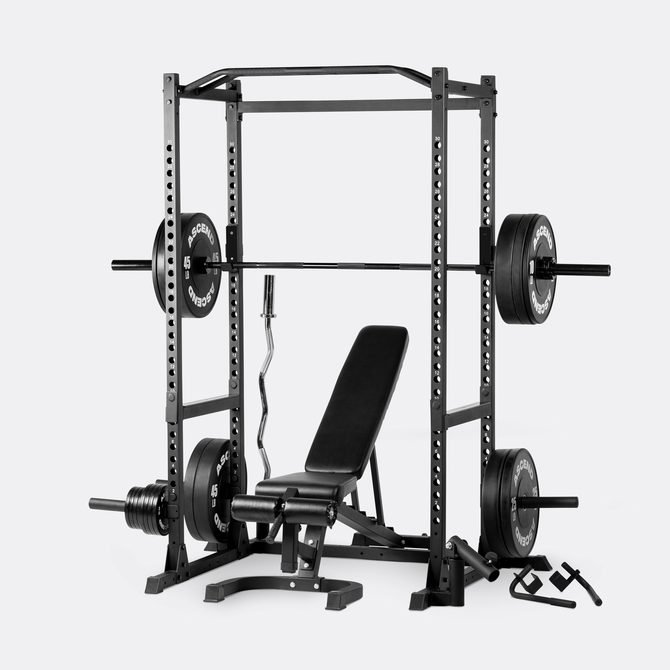 Build Your Own Bundle
Use our bundle builder to easily customize and build the home gym of your dreams!
Create your bundle
Loved by 5000+ canadians
Rated 4.8/5 by over 1000 customers
Customer service was really helpful to help me decide which model was perfect for me. Talking on the phone with them was really reassuring. Thanks!

The machine is affordable and looks good for the price. Seems like one of the best values on the market at the moment! And they're a Canadian business too.

Very good machine, similar quality and build to those you would find in a commercial gym. The mechanism is smooth and it feels very stable.

I live in a small apartment and wanted to get something small and easy to move around. The elliptical is perfect and I can get a good workout from home whenever I need. Would definitely recommend to anyone with a small living space.

Super convenient and easy to assemble, took me less than an hour! Love the fact that you can move it with the wheels on the bottom.

Très bon service et vélo de bonne qualité rien à dire de plus
Lose Weight
Get Stronger
Get Healthier
Improve Mood
Boost Immunity
Sleep Easier
Live Longer, Better